group Single Pool Operators
[WISE] WISE-POOL
Pool ID:
pool1p42f6kw9lkgw5tn77kqyrc22zrs4uq298p468gacwzw6gq0ckq2
(0d549d59c5fd90ea2e7ef58041e14a10e15e0145386ba3a3b8709da4)
Cardano stake pool, supporting decentralization, charity and contributing to the amazing project!
Estimated Blocks in Whole Epoch
Let's decentralize with Cardano and WISE-POOL
ADDITIONAL DELEGATOR REWARDS
I'm starting a big offensive to attract my first delegators! 
A total of 50% of my pool rewards will be shared with potential delegators (>=100K stake) for 6 epochs! (in avg. 175ADA => so 50% of avg. 350ADA pool rewards expected)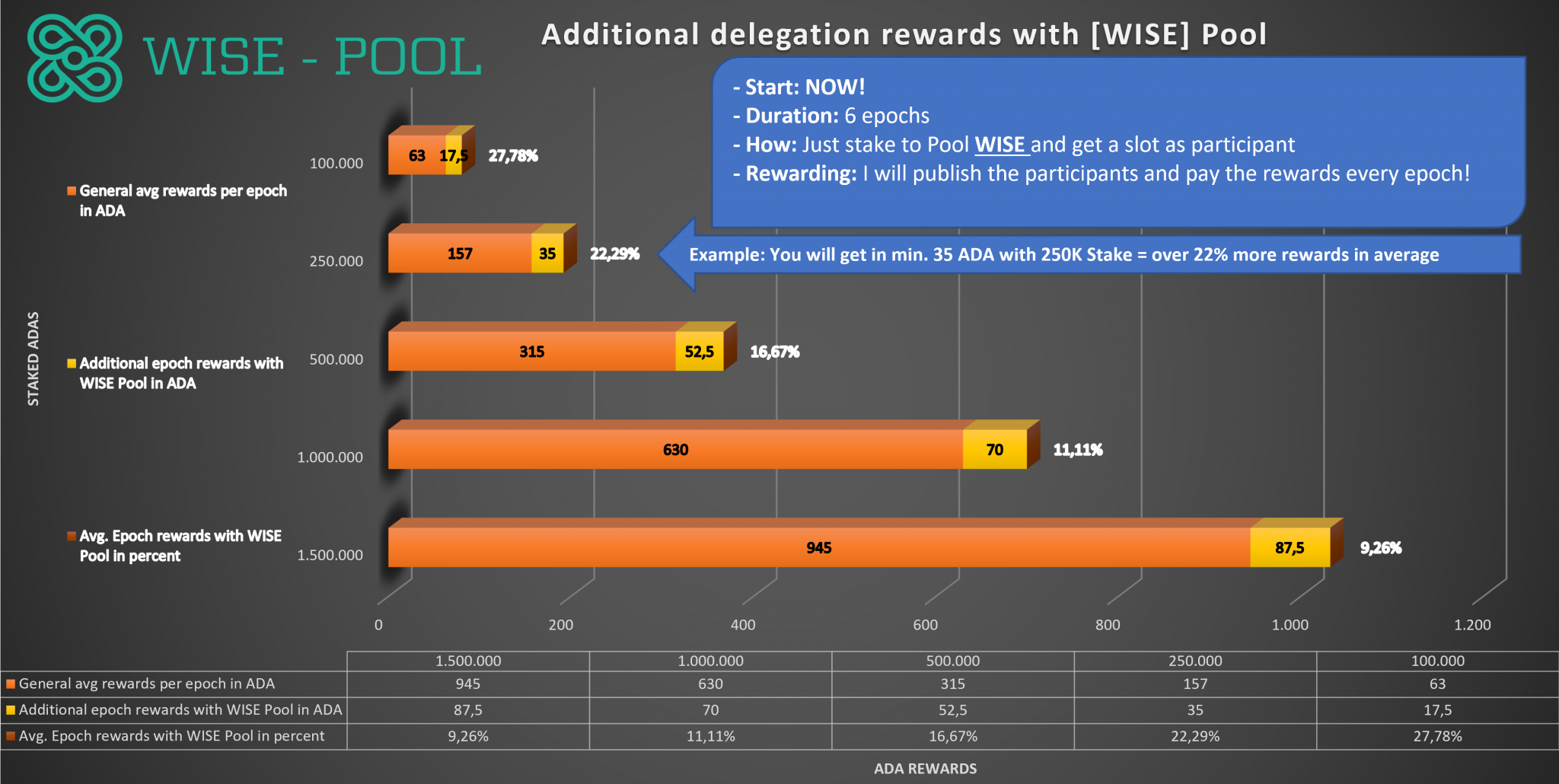 more Information: Additional delegator rewards – WISE-POOL (wise-pool.eu)
We are happy to be a part of that community!
Our main goals:
Taking an active part in

decentralization

Inform about Cardano on Social Media and offline conversations with friends, colleagues, neighbors, etc.
Participating in developing on Cardano

DApps in the direction of IOT / Smart Home, but also open for other areas

Support social organizations (as far as we get consistent rewards)
Support small stake pools (as far as we get consistent rewards)

so that they don't loose motivation and stay on participation in decentralization
---
This page was created by verified pool owner. The content is not created by ADApools. In case of incongruity, please contact us.
Performance